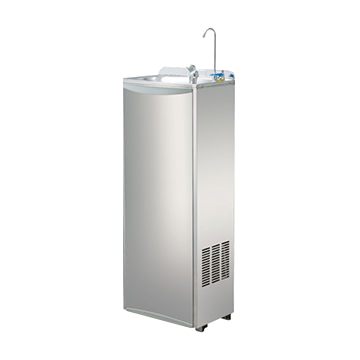 Wherever appearance is important COOL STREAM free standing water coolers are the idea choice. Plumbing connections are completely concealed with backside of coolers, flash installation saves much of the floor space. It is handsome enough for school or offices, rugged enough for shops, factories or hospitals. Built with American G.E. technology standard. COOL STREAM water coolers are symbol of quality and excellence in craftsmanship and engineering.
| | | | |
| --- | --- | --- | --- |
| MODEL | VOLTS | GALLON | LITER |
| CSD-125 | 220/240 | 10/Hour | 45/Hour |
| CSD-300 | 220/240 | 20/Hour | 90/Hour |
| CSD-100 | 220/240 | 30/Hour | 135/Hour |
The period of warranty in respect of any parts and other electrical components fitted to the appliances by the manufacturer. We also provide warranty in respect of any parts and other electrical components fitted to the appliances per Guaranty Card (ask for Guaranty Card).
REQUEST A QUOTATION
MORE INFORMATION ABOUT PRODUCT
FEATURES
INSTALLATION
THOROUGHLY TESTED
CAUTION
GUARANTEE
HYDRO-CURE WATER FILTER
TECHNICAL SPECIFICATION
STAINLESS STEEL TOP:
Polished stainless steel top prevent rust, corrosion and dainty with waste water drainage system.
WATER TAP:
Stainless steel anodized water tap assures smooth even flow of water under line pressure from 20 to 100 PSI.
COPPER COOLING COILS:
Copper cooling coils are around the storage tank ensure maximum cooling efficiency.
INSULATION JACKET:
External refrigeration coils bonded to tank by pure glass-wool with aluminum foil maintains cold water temperature.
REFRIGERATION SYSTEM:
This system is maintenance free, compressor is hermetically sealed, no lubricants need and virtually leak proof, built with TECUMSEH brand compressor of U.S.A, France, Thailand, Singapore, Malaysia.
ADJUSTABLE THERMOSTAT CONTROL:
Thermostat is temper proof remote sensing bulb located tank. It provides accurate control of cold water temperature. This thermostat which has extremely sensitive features, must be handled with great caution. Temperature range +2°C to +12.5°C, it has been given standard temperature setting at the factory. For any other setting, it is advised that you should ask our authorized dealer.
It is very simple to install our water coolers, just plumbing the general water pipe to the water coolers and making a waste water drain and connecting the main power line.
Each water cooler is subjected to continuing assembly line test and a complete capacity performance test. Before delivery every water cooler is again thoroughly tested by our suppliers.
Water must be supply to the inner tank before start the water cooler and ensure that the main power voltage is the same voltage as its requirement. To prevent fire hazard, do not expose this equipment to rain or moisture.
The period of guarantee in respect of any spare parts and other electrical components fitted to the appliances by the manufacturer is limited to one year from the date of purchase. No claim will hold good should the apparatus be tempered with transited damage, voltage fluctuation or installation incorrectly.
Spare parts for all models are easily available ex-stock. Our water coolers are designed and manufactured to give you long trouble free operation and need almost no maintenance except occasional cleaning of scales. However, if you face any problem any time, please call Tel: 9111058, 8112986 for help, prompt service will be made available to you. All parts and components are imported from U.S.A assembling in Bangladesh.
Water filter may be supplied with each COOL STREAM water cooler on customers demand against add extra cost. It can be installed in any other Drinking tap., in kitchen or basin where the filtered water require.
Water Temperature: 50°C (Max)
Filtration: Rust, Dust, Sediment, Germ
Washable and replaceable cartridge
| | | | |
| --- | --- | --- | --- |
| MODEL | VOLTS | GALLON | LITER |
| CSD-125 | 220/240 | 10/Hour | 45/Hour |
| CSD-300 | 220/240 | 20/Hour | 90/Hour |
| CSD-100 | 220/240 | 30/Hour | 135/Hour |